Weymouth Couple Busted in 2008 Face New Drug Charges in 2013
A Weymouth couple are currently facing charges for trafficking in oxycodone, distribution of oxycodone and conspiracy. In late May, Massachusetts police went to the Tara Drive apartment in Weymouth of Kevin L. Kessinger, 54, and Joannie C. Myers, 52, after obtaining a search warrant. According to an article published by The Patriot Ledger, once the police went inside, they found "a stash of oxycodone pills, several hundred dollars in cash and lists of drug customers and how much they owed."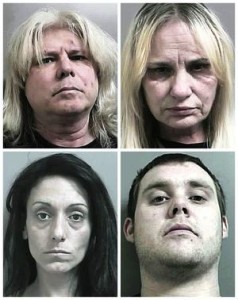 Police suspected drugs were being sold after watching the Tara Drive apartment one afternoon and seeing what appeared to be a drug sale. The buyer, Kerri L. Deroche, gave the police two oxycodone pills she said she had just purchased from Kessinger and Myers. Deroche was arrested and charged with both conspiracy and possession of oxycodone.
After arresting Deroche, police returned to the Tara Drive apartment with a search warrant. The officers arrested Kessinger outside of the apartment building. They also arrested Joannie Myers and her son, Ryan J. Thomas, 25, who was living with the couple. Thomas was in possession of methadone at the time he was arrested. Kessinger and Myers received 18 months of probation following this drug raid.
How Current Drug Bust Compares to Prior One in 2008
When Kevin Kessinger and Joannie Myers were arrested back in 2008, they were renting a rather expensive home (worth about $600,000) in East Weymouth.  A search warrant was issued back then after police officers saw two men apparently buying drugs at the Kessinger rental house.  Myers' son – then just 22 – was also arrested along with his mother and Kessinger back in 2008.  Although Myers and Kessinger faced charges including drug possession and distribution following the 2008 raid – it's unclear what charges, if any, were filed against Myers' son.
The woman who had rented the home to Myers in the exclusive neighborhood responded to the arrests by saying, "I thought it was a prank.  I couldn't even believe it . . . It's [a] very secluded . . . beautiful neighborhood [with] a lot of families."
When police searched the rental home during this bust, they found "a .38 caliber firearm and ammunition in Kessinger's nightstand, as well as several thousand dollars in cash and Oxycontin pills." The officers also discovered that Kessinger's federal firearms ID card had expired eight years earlier. Elsewhere in the home, police found "dozens of different-sized Oxycontin, Percocet and Suboxone pills and other drug paraphernalia."
If you've been arrested or accused of committing any drug offense or serious crime, you can contact the Law Offices of Massachusetts criminal defense attorney Russell J. Matson — 24 hours a day — to obtain the criminal defense advice you need: (781) 817-6332.