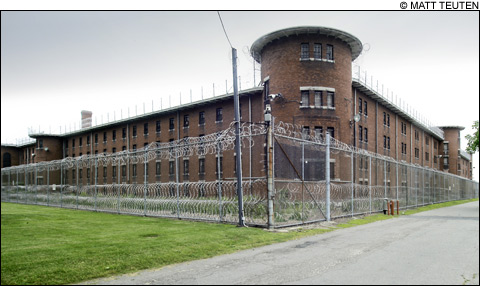 Massachusetts Correctional Facilities: Basic Info
Massachusetts sends thousands of new convicts and repeat offenders to the state's various lock-up facilities.
While serving time for Massachusetts criminal charges, these people's family units are seriously fractured or broken and their future work lives are permanently compromised.  After they're released, many convicts may be able to find jobs but few will ever be able to find meaningful work due to their convictions.
Who's Currently Locked Up?  A Brief Snapshot
In General
As of January 2013, the Massachusetts Department of Corrections (DOC) offender population totaled about 11,400 individuals. Of those, close to 10,000 were classified as criminal convicts. Another 560 were housed in DOC facilities as civil offenders. Almost 700 others were detained in DOC facilities while awaiting trial.
Statistics by Age
Roughly 1,000 of our convicts are below the age of 25 (just under 10 percent). Another 3,500 of them (close to 31 percent) are between the ages of 25-34. The largest segment of the DOC population falls between the ages of 35 – 49. This last group includes about 4,300 individuals (or 38 percent of the total DOC population). Finally, about 2,400 of those in the DOC are age 50 or older (comprising close to 21 percent of the overall state prison population).
Over 10,000 of those in prison are male while fewer than 1,000 are female.
The average male offender is 39 years old and the average female offender is 38 years old. The youngest inmate is only age 16 and the oldest one is 89 years old.
Statistics by Race/Ethnicity
As of January 2013, roughly 5,000 inmates of both sexes were designated as "White." Just over 3,100 of them were of Black origin and approximately 2,800 were ethnically described as Hispanic. Just over 150 others were designated as Asians and 84 were described as Native American/Alaskan. The category of "other" was used to describe the remaining 110 inmates or detainees.
Custody Level Required:  Minimum, Medium or Maximum
Approximately 69 percent of the DOC population requires housing in a medium-level security facility. Close to 17 percent of the convicts or detainees must be kept in maximum-level security lock-ups. Finally, about 11 percent of the population requires minimum-level security housing. The remaining 2.9 percent of the DOC inmates are currently being held in special "pre-release" facilities.
Names/Locations/Addresses of the Major DOC Facilities
The Internet makes it much easier for family members and friends of the incarcerated to locate and contact them. One website provides the addresses of each facility (it notes that all who visit it may have their Internet addresses monitored by the FBI). Perhaps the best general information about each facility is set forth in the DOC publication entitled "Facility Facts."
As the DOC publication just referenced indicates, some of the specialized facilities include:
The Cedar Junction facility that all male inmates must initially visit for diagnostic assessments (location:  South Walpole, Massachusetts) ;
The Souza Baranowski Correctional Facility best known as a maximum security unit (location:  Shirley, Massachusetts);
Within the Old Colony Corrections Center are the the Massachusetts Treatment Center and the Massachusetts Alcohol & Substance Abuse Center (both are located in Bridgewater, Massachusetts). The former unit provides special treatment for sex offenders while the latter helps inmates try to recover from various substance abuse addictions, including those convicted of multiple offense DUI charges with alcohol addition problems;
The Framingham facility is the Department of Correction's reception and diagnostic center for all female offenders. "It's the oldest operating female prison in the country;"
The Pondville Correctional Center (location:  Norfolk, Massachusetts) and the Northeastern Correctional Center (location:  West Concord, Massachusetts) are set up to help inmates as they prepare to transition back into society after serving their sentences.
Readers interested in learning more about the Massachusetts Department of Corrections and the state's various prisons, jails and treatment centers may want to visit the links supplied above and the state's Department of Correction website.
If you are accused of criminal charges in Massachusetts call Russell Matson at 781 380-7730.
By Elizabeth Smith