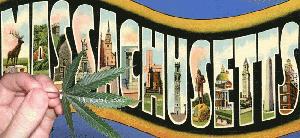 Mass. Medical Marijuana Industry Prepares for Take-Off
When medical marijuana legislation comes to town, money stands to be made—a whole lot of it. Budding entrepreneurs and existing business success stories are waiting in the wings for the Massachusetts medical marijuana program to be finalized so they can get started in the new  territory. From dispensary operators, to edible-manufacturers, consulting firms, and attorneys—there are many opportunities to make some serious money off of the marijuana movement.
"There's a great opportunity here in Massachusetts," said Kayvan Khalatbari, a Denver dispensary owner who is looking to share what he knows about the business with those in our state. Twenty-nine years old, he has developed a lucrative consulting business, helping a reported 15 people in Mass. who hope to learn from him. His fees? $250 per hour.
Dixie Elixirs & Edibles, another Colorado company, is also hoping to capitalize off of Massachusetts new industry. Under owner Tripp Keber, they earned more than $1 million in 2012, selling beverages and infused foods in Colorado. Now, they are reaching out and striking deals in Massachusetts, Connecticut, D.C., and Arizona.
"Medical marijuana has created a cottage industry. This business is growing exponentially," said Keber. "Two to three years ago, we couldn't get someone to return our calls…Now, on any given day, we have three to five vendors calling, e-mailing, or knocking on our door wanting to do business with us."
People are making money off of consulting, manufacturing, legal representations, accounting, and many other less-thought of aspects of the medical marijuana industry, and it's only expected to grow.
Here in Massachusetts, the system isn't even in place yet, and those involved in the business of medical marijuana are expecting major success and growth. In other states, where medical marijuana is already in practice, these business ventures have proven lucrative, if a bit risky.
You see, like dispensaries, all of these business-people are caught up in an industry the federal government doesn't like, with many of them actually breaking federal laws. And while the feds have said repeatedly that bucking state medical marijuana laws is not a priority, their enforcement has made it appear otherwise.
All businesses come with risks, with medical marijuana businesses, the risks are quite high.
Whether you are a medical marijuana user, grower, or distributor, or if you are use it for recreational purposes, you could be arrested and charged with a crime. If that happens, we may be able to help.